I believe style is essential to your surroundings, without it we would all just exist in mediocre spaces and that would be detrimental to our well-being. Just imagine what the world would look like if it was all just too bland, life would be a lot duller that is for sure. So consider these design ideas I have created for both the home and office. Furnishings are what we live around so I'd like to at the very least just inspire you to get creative and create a nicer atmosphere wherever you spend your time.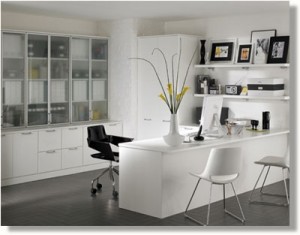 First of, a nice idea for the office. look how the clean smooth reflective surfaces add a nice feel. the colour scheme is easy on the eye too, maybe making it easier to concentrate, with little dashes of colour to keep you excited with not too much variation that will distract you. a perfect office environment.
If you like this design i can point you to a site that sells white plan chests for your utility.
At home you may want a place to store your belongings. Here you have the option of openly storing goods or hiding them away inside a cabinet of your choosing. Either option is a serious consideration if you want to get the best styling for your home. For example in the picture we have the hi-fi units stored next to the tv inside the green cabinet. Alternativ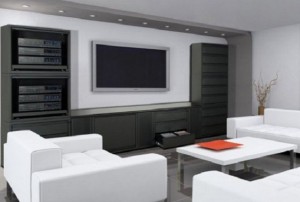 ely it could be displayed in the open underneath the tv but this would add a different vibe to the room and would remove the need for the storage cabinets on the sides also changing your atmosphere. That being said, either is a great choice, and I would be happy with either option.
Au revoir… and Happy designing people!