The Shard, Renzo Pianos latest 82 floor skyscraper, towers over all other skyscrapers in London. Situated in Southwark, London by the river Thames. This modern giant of architectural design stands at 998 feet, its outer surface entirely laden with glass. It stands by London Bridge as a testament to the capabilities of modern engineering and design.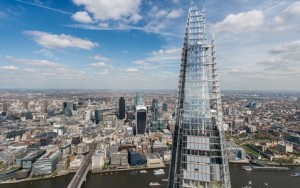 As the Shard is located at the entrance of the London Bridge underground station, its design has an ethos of somewhat portraying that public transport is an aspect of society which should be held with great importance. Indeed this is what Renzo Piano has stated himself.
The Skyscraper is to feature 5 distinct areas; floors 2 – 28 are for offices, 31 – 33 for restaurants, a Shangri-la hotel on floors 34 – 52, residential apartments on floors 53 – 65 and an observatory on floors 68 – 72.